🌌 Origin
Searching for lab grown or natural diamonds?
💍 Shape
Which diamond shape are you searching for?
💰 Budget
What is your budget (just for the diamond)?
💎 The 4 C's
What type of diamond are you looking for?
🧐 Jewelers
Would you like to search online or local jewelers?
✔️ Ready
Kick your feet up and let our algorithms get to work
(Or, tweak your search criteria below)
Diamond Origin Advice
What is the difference between natural & lab grown diamonds?
Natural diamonds were formed over billions of years deep inside the earth. Lab grown diamonds are (unsurprisingly) grown in a labroratory by skilled scientists using modern diamond growing techniques. Lab grown diamonds tend to cost significantly less than natural diamonds, but the market for lab grown diamonds is still relatively young compared to that for natural diamonds.
How are lab grown diamonds made?
Making a lab grown diamonds involves adding extreme heat and pressure to an environment containing a small diamond called a "seed diamond" and a mixture of carbon and various gasses. The gasses are then electrically separated so that the carbon atoms can only bond to the diamond "seed". As the carbon atoms bond to the pre-existing diamond, they continue to follow the unique structure that makes a diamond different from others forms of carbon such as coal. This is why lab diamonds are described as being grown rather than manufactured.
Are lab grown diamonds fake?
No! Lab grown diamonds are identical to natural diamonds (though there are still a few tests that can determine whether a diamond was grown in a lab or dug up from the ground). In 2018 the U.S. Federal Trade Commission (the FTC) declared that lab diamonds are officially considered "diamonds" and that adjectives such as "manufactured" or "synthetic" were misleading to consumers who understood these terms to mean that lab grown diamonds were not chemically identical to real diamonds.
'Since then, technological advances have made it possible to create diamonds in a laboratory. These stones have essentially the same optical, physical, and chemical properties as mined diamonds. Thus, they are diamonds.' - Federal Trade Commission
Return
The 4 C's Advice
What are the 4 C's?
The 4 C's are traditionally considered the most important aspects to consider when evaluating the quality of a diamond. They are color, clarity, cut, and carat weight. Each of these characteristics has a major affect on the appearance of the diamond. Here's how:
Color
Diamond color grades are scored on a scale from D (colorless) to Z (light colored) for white diamonds. The rarest, most expensive, and most sought after diamonds are D color. These diamonds look totally white with no yellow or brown tint to the diamond. Most diamond shoppers choose a near colorless diamond (grades G - J) because these diamond can appear nearly identical to colorless diamonds (grades D - F) but cost a fraction of the cost. Thus, a near colorless diamond can allow you to increase the size (carat weight) of the diamond while staying within budget. Even a K color diamond can "face up" totally white, meaning that the diamond appears white when viewed from above.
Clarity
During their growth process, both natural and lab grown diamonds are subject to certain stresses that can cause minor blemishes or flaws within the diamond. These are totally natural and most diamonds have at least some types of "inclusions". The most common types of inclusions to be aware of are crystals, feathers, and twinning wisps, but there are many other types of inclusions. For most diamonds graded SI1 or better, these inclusions do not impact the beauty of the stone to the naked eye and these diamonds are referred to as "eye clean". However, a large, dark, or poorly positioned inclusions (such as a crystal on the top center table of the diamond) could be visible to the naked eye and make the diamond less desireable.
Cut
Diamond cut measures the overall angles, proportions, and facets of a diamond to determine whether the stone will properly reflect light (think: sparkle). This grade is only applicable to round cut diamonds as fancy shapes like oval, princess, cushion, etc. do not have generally agreed upon standards for cut grading (at least not by the GIA). All of the diamonds we'll recommend are Excellent/Ideal cut (the highest grades assigned by the GIA/AGS respectively) since cut is the cheapest of the 4 C's to upgrade and makes a big difference in appearance. StoneAlgo has even taken this study a step further by calculating a Cut Score for every round diamond on our site (our own 10 point scale to help identify the absolute sparkliest diamonds).
Carat Weight
While most people think of carat weight as how big the diamond looks, it is actually a measurement of weight - not size (for perspective, 1 carat = 0.2 grams). StoneAlgo created our own metric called Visual Carat that translates the appearance of size (surface area) into an equivalent carat weight so you can quickly determine how large a diamond will actually look (in carat terms), rather than how much it weighs.
Return
Our Jewelers
Online Jewelers
StoneAlgo works with a select group of top online jewelers and aggregates over 1,000,000 diamonds every day to ensure our users get an amazing deal on the perfect diamond from a trustworthy jeweler. All of our online jewelers offer the following perks:
Free 30 day returns
Free, secure shipping
Lifetime guarantee
Financing options
Local Jewelers
NEW
StoneAlgo is changing the way people shop for diamonds by offering our users the opportunity to schedule an appointment to see certain diamonds in person at one of our trusted local jewelers.
Return
Budget Advice
StoneAlgo Budget Statistics
Budget is highly personal, but what we can tell you is what other StoneAlgo users tend to spend on average. The below chart shows the popularity of diamonds under $5k, $10k, etc.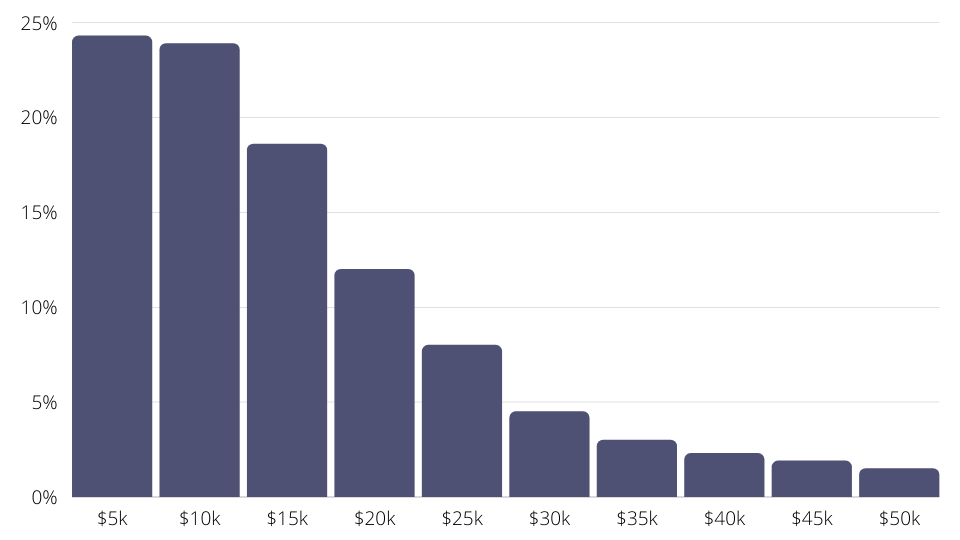 Each price point above represents the percentage of users who spent less than or equal to that pricepoint and more than the previously listed pricepoint. For example, 12% of StoneAlgo users spent between $15,001 - $20,000 as indicated by the bar above the "$20k" label.
Return
Diamond Shape Advice
How to choose your diamond shape
Diamond shape is a highly personal and unique aspect to consider when buying a diamond. The popularity of the various diamond shapes has risen and fallen over the decades, but generally speaking Round shaped diamonds have been and continue to be the most popular shape.
If you're picking out a diamond as a gift for your significant other, we recommend trying to figure out their preferences before purchasing a diamond. However, at StoneAlgo all of our jewelers offer free 30 day returns and free shipping (just in case).
What are the most popular diamond shapes?
In order, the most popular diamond shapes on StoneAlgo this past month are:
Round
Oval
Princess
Emerald
Cushion
Pear
Radiant
Heart
Marquise
Asscher
Return
👋 Hi, we're StoneAlgo
We find exceptional diamonds from trusted jewelers